Fahn & Company

Michael Fahn began promoting concerts after attending San Diego State in 1980. It was the beginning of a remarkable ten year run that had him producing concerts everywhere from Jack Murphy Stadium in San Diego to Yankee Stadium in New York City. During that period he was involved in producing concerts for some of the biggest acts in the world including The Who, The Police, The Beach Boys, and U2.

Returning to his roots in Sacramento to pursue other business opportunities, Michael saw an opportunity to bring world class acts to the city of his birth, while being able to spend time with family and creating one of his own. Soon the sounds of everyone from Ray Charles, The Moody Blues, and ZZ Top, to Pat Metheny, The B-52s, and Lynyrd Skynyrd could be heard in the valley.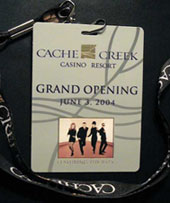 Not content to just produce concerts, Michael was instrumental in the creation of Sacramento's first intimate outdoor concert venue, "The Village Marina". He also designed and developed The Radisson Hotel Outdoor Grove, and Two Rivers Amphitheater at the confluence of the American and Sacramento Rivers.
Fahn & Company was asked to participate in the design and construction of the Event Center at Cache Creek Casino Resort. They produced the concert for their Grand Opening extravaganza and served as the exclusive producers for all headline talent at the venue.
Michael Fahn and Fahn & Company were the driving force in the creation of "A Day In The Zone" and Sacramento's "Rock The Vote Concert". Fahn & Company was also reponsible for the presentation and production of the Spring and Summer Jam concert series.
With over thirty years in the business, Fahn and Company understands what makes a great show and a show great. Whether working with municipalities, corporate sponsors, or just creating new concerts and experiences Fahn and Company continues to innovate and, despite tough economic conditions, continues to provide great entertainment at a fair price.